Webcomic Illustrator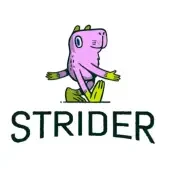 Strider
Design
United States
Posted on Friday, September 15, 2023
ABOUT US
Hi, we're Storygrounds!
We are founded by a team of humans who have worked within entertainment and games for decades, and we have some thoughts. During our time within these worlds, we've come to realize the creative process is broken. Being story lovers through mediums such as games, comics, novels, and entertainment, has sparked a desire to bring the love of the story-telling process back to the communities who love them.
With these thoughts in mind, it helped us form some of our core beliefs:
- Everyone is a storyteller
- Creating stories together is more fun than doing it alone
- The format of webcomics for storytelling is awesome
- Making webcomics can feel more like a game
- People should be rewarded for their contributions
- Bunnies are amazing creatures who bring chill relaxation wherever they roam
OUR GOAL
To harness the creative power of communities to be productive together, with new, transparent ways of getting everybody compensated for their efforts.
Storygrounds was born from our desire to make collaborative storytelling easier, more fun, and super social. We want to provide communities with the tools they need to tell stories and build worlds together through webcomics.
ABOUT THE ROLE
As a preface, we understand that applying to any role is a bit scary. From here onwards, read knowing that this is ideally what we want but what we are seeking is more than just a list.
We are seeking a temp Webcomic Illustrator to help us with an interesting project! In this role you will be collaborating with our team, as we conceptualize the look and feel of a written storyworld that will be developed into a published webcomic.
*This position will be a 3-month engagement to help us during our early alpha. There is potential for a contract extension.
RESPONSIBILITIES/SCOPE
Conceptualizing and creating a bespoke art style for an interactive storyworld written by the Storygrounds team that will be published as a weekly webcomic on our new storytelling platform that we are building.
The storyworld is of the Office Romance genre and is largely inspired by Manhwa Romance webcomics.
The art style direction needs to feel very much in the vein of this genre of story and accessible to fans of Manga, Manhwa, and Manhua webcomics popular on Webtoons, Tapas, Lezhin, etc.
The illustrator will be working closely with both the story's writer as well as the Chief Creative Officer through all phases of the project: initial art style explorations, character concept sketches, episode storyboarding, and final episode panels.
QUALIFICATIONS
Fluent in Adobe Creative Suite of software or similar apps (Photoshop, Clip Studio Paint, etc.).
Portfolio showcasing a variety of work created in a Webcomic/Manga/Manhwa/Manhua style.
Ability to conceptualize and create human characters in a young contemporary setting.
Ability to illustrate quality concepts and finals and iterate at a high velocity.
An excellent understanding of webcomic/manga/manhwa/manhua visual aesthetics and sequential visual storytelling.
An excellent understanding of the formatting needed for vertical scroll webcomics.
Excellent communication skills.
NICE TO HAVE
Fan of Webcomics/Manga/Anime/Manhwa/Manhua.
Creator on webcomic platforms like Webtoons, Tapas, Manta, etc.
Excellent understanding of Webcomic/Manhwa/Manhua storytelling structure.
An interest in the ethical use of genAI technologies.
$20 - $30 an hour
The above hourly rate only captures the approximate market rates within the USA. The final hourly rate will consider additional factors such as the location of work (candidates outside of the USA are welcome), living costs, and of course, the interview itself.
**PAUSE!**
As mentioned, the above is just a list. We want to assess ALL of you, including who you are and the potential of who you can be. If you have some or all of what we're seeking, please apply! :)
~~~~~~~~~
At Storygrounds, we are dedicated to building not just a product, but a workplace that values and promotes creativity and the diversity of people & thoughts. Our hugest asset is our global team, and we want to make sure that we are fueling an authentic workplace, where each individual can feel a sense of belonging.
Storygrounds provides equal employment opportunities to all employees and applicants for employment and prohibits discrimination and harassment of any type without regard to race, color, religion, age, sex, national origin, disability status, genetics, protected veteran status, sexual orientation, gender identity or expression, or any other characteristic protected by federal, state or local laws. This policy applies to all terms and conditions of employment, including recruiting, hiring, placement, promotion, termination, layoff, recall, transfer, leaves of absence, compensation, and training.